Community Solutions Initial Training Session
This is a video of the training session held by Nehemiah Reset and Community Solutions which provided an introduction to what candidates for local elections should know before running for office. This training session was held on Thursday, April 15, 2021, at 6:30 pm. We have blacked out the images of the attendees to protect their identities. This video provides a lot of information about our city structures and our school boards. Information that candidates, as well as the general public, should know.
If you are interested in running for office and would like some assistance contact either Nehemiah Reset or Community Solutions to see how they could assist you. You can contact Nehemiah Reset at roger@nehemiahreset.org and Community Solutions at commsolutionsmn@gmail.com. Community Solutions offers a podcast that provides various information which may be of assistance to you. Their podcast can be found at iTunes, Spotify, and Google Play under "Community Solutions".
Download this free ebook about Strategies for running in a School Board election by clicking on the above image or this link.  Strategies also apply for running in a City Council election. This is a FREE ebook and contains a number of current strategies for winning in an election in a covid environment and also in a non-covid environment. This is a must-read for all conservative candidates.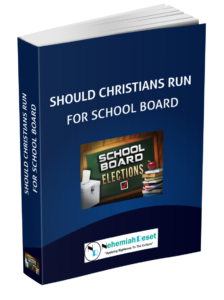 This ebook provides reasons that Christians and conservatives should run in local elections. With progressives in control of the culture, righteousness is no longer a part of the culture and there is no one who is standing up for the innocent children. Christian conservatives need to step into the fray to bring righteousness back to the culture. This ebook provides a number of biblical examples of bible heroes who were in the same position in their culture. Download the ebook by clicking on the above image or this link.