An Arkansas police officer was one of three suspects arrested during a recent child sex trafficking sting in Texas.
Texarkana Officer Telvin Wilson, 31, was charged with online solicitation of a minor. Wilson had worked for the Texarkana Arkansas Police Department since 2016.
Texarkana refers to two different cities next to each other on the border of Texas and Arkansas. The sting was conducted by the Texas police department.
The Texarkana Texas Police Department detailed the operation in a Facebook post, explaining that officers originally posted a fake ad on a prostitution site. Authorities posed as an underage girl when they were contacted by the suspects.
TEXAS SCHOOL TO FIRE TEACHER ARRESTED IN CHILD PROSTITUTION RING
"Even though the 'girl' told each of them that she talked to that she was underage, each of the three men still wanted to come meet up with her and offered to pay her for sex," the Texarkana Texas Police Department wrote on Facebook. "When the guys showed up and knocked, they were shocked when several police officers answered the door instead of the young girl they were expecting."
The Texarkana Arkansas Police Department told Fox News Digital that Wilson was terminated immediately after they learned about the arrest. In an old Facebook post, Wilson wrote that he became a police officer to make a difference in his community.
"I have always wanted to be that officer that is able to communicate with the public and be comfortable while doing so," a department Facebook post from February reads. "I like that I stand in the gap and be the one that our young people can come and talk to."
TEXAS ELEMENTARY SCHOOL TEACHER ARRESTED FOR ALLEGEDLY TRANSMITTING CHILD PORNOGRAPHY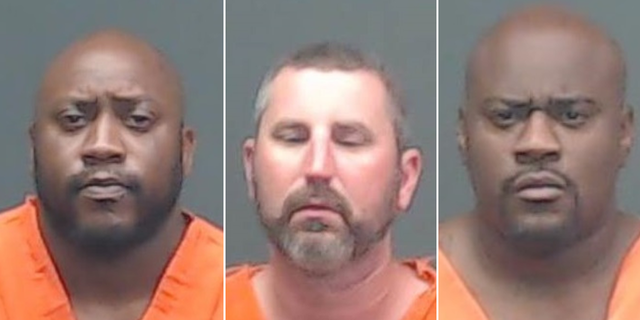 The other two suspects were Adarius Wills, 33, and James Willis, 37. Wills was charged with online solicitation of a minor and delivery of marijuana while Willis was charged with online solicitation of a minor, delivery of a controlled substance, resisting arrest and evading arrest.
Willis was also arrested for abandoning/endangering a child with intent to return and possession of a controlled substance. His bond has not been set – Wills and Wilson's bonds are $85,000 and $100,000, respectively.
CLICK HERE TO GET THE FOX NEWS APP
"Thank you to the investigators with the Bowie County Sheriff's Office, FBI, and Texas Department of Public Safety for their invaluable help with this operation," the police's press release added.